Prayers of the People...Collect, Epistle, and Gospel
I believe in God, the Father almighty, maker of heaven and earth;
And in Jesus Christ his only Son our Lord; who was conceived by the Holy Ghost,
born of the Virgin Mary, suffered under Pontius Pilate,
was crucified, dead, and buried. He descended into hell.
The third day he rose again from the dead. He ascended into heaven,
and sitteth on the right hand of God the Father almighty.
From thence he shall come to judge the quick and the dead.
I believe in the Holy Ghost, the Apostolic Church,
the communion of saints, the forgiveness of sins,
the resurrection of the body, and the life everlasting.
O LORD, who hast taught us that all our doings without charity are nothing worth; Send thy Holy Ghost, and pour into our hearts that most excellent gift of charity, the very bond of peace and of all virtues, without which whosoever liveth is counted dead before thee. Grant this for thine only Son Jesus Christ's sake. Amen.
Greatest Hymns for Lent
Forty Days and Forty Nights
The Epistle. 1 Corinthians xiii. 1.
THOUGH I speak with the tongues of men and of angels, and have not charity, I am become as sounding brass, or a tinkling cymbal. And though I have the gift of prophecy, and understand all mysteries, and all knowledge; and though I have all faith, so that I could remove mountains, and have not charity, I am nothing. And though I bestow all my goods to feed the poor, and though I give my body to be burned, and have not charity, it profiteth me nothing. Charity suffereth long, and is kind; charity envieth not; charity vaunteth not itself, is not puffed up, doth not behave itself unseemly, seeketh not her own, is not easily provoked, thinketh no evil; rejoiceth not in iniquity, but rejoiceth in the truth; beareth all things, believeth all things, hopeth all things, endureth all things. Charity never faileth: but whether there be prophecies, they shall fail; whether there be tongues, they shall cease; whether there be knowledge, it shall vanish away. For we know in part, and we prophesy in part. But when that which is perfect is come, then that which is in part shall be done away. When I was a child, I spake as a child, I understood as a child, I thought as a child: but when I became a man, I put away childish things. For now we see through a glass, darkly; but then face to face: now I know in part; but then shall I know even as also I am known. And now abideth faith, hope, charity, these three; but the greatest of these is charity.

The Gospel
St. Luke xviii. 31.
THEN Jesus took unto him the twelve, and said unto them, Behold, we go up to Jerusalem, and all things that are written by the prophets concerning the Son of man shall be accomplished. For he shall be delivered unto the Gentiles, and shall be mocked, and spitefully entreated, and spitted on: and they shall scourge him, and put him to death: and the third day he shall rise again. And they understood none of these things: and this saying was hid from them, neither knew they the things which were spoken. And it came to pass, that as he was come nigh unto Jericho, a certain blind man sat by the way-side begging: and hearing the multitude pass by, he asked what it meant. And they told him, that Jesus of Nazareth passeth by. And he cried, saying, Jesus, thou son of David, have mercy on me. And they which went before rebuked him, that he should hold his peace: but he cried so much the more, Thou son of David, have mercy on me. And Jesus stood, and commanded him to be brought unto him: and when he was come near, he asked him, saying, What wilt thou that I shall do unto thee? And he said, Lord, that I may receive my sight. And Jesus said unto him, Receive thy sight: thy faith hath saved thee. And immediately he received his sight, and followed him, glorifying God: and all the people, when they saw it, gave praise unto God.
The 1928 Book of Common Prayer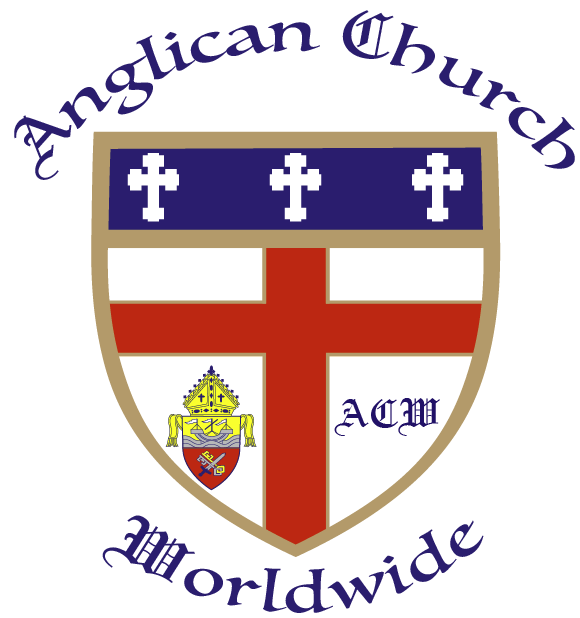 Reaching Out to the World and....... Beyond
Under the Protection of the Cross
Disclaimer: This is the original and authorized version of the Anglican Church Worldwide website.
We assume no responsibility for the contents and/or publication of any site created after our initial publication date.