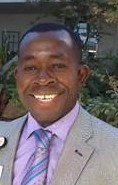 Th
e ACW welcomes its new Bishop in residence, Kafunyi Mwamba, who
was
consecrated virtually Sunday Dece
mber 13, 2020, in th
is feast of Advent/Christmas. There
were
limitati
on in virtual ordination but a full vesture will
be when all returns to normal. His duties begins effective immediately, as Bishop to the Midwest USA, presiding from Dublin, Ohio. He will also serve as Chaplin to the Presiding Bishop's Office.
Bishop Edwin Tompkins preached the sermon encouraging us never to give up. Presiding
Bishop Ha
rtley was the consecrator, 7 were in attendance.
Bishop Kafunyi Mwamba was ordained priest in the ACW on July 1, 2007 and has served the church at St. Andrews ACW in Dublin, Ohio ever since.