FOURTH SUNDAY AFTER EPIPHANY
Good Shepherd Order Of Worship
COLLECT
O GOD, who knowest us to be set in the midst of so many and great dangers, that by reason of the frailty of our nature we cannot always stand upright; Grant to us such strength and protection, as may support us in all dangers, and carry us through all temptations; through Jesus Christ our Lord. Amen.
The Word of God
THE PSALMS

--

Psalm20
KJV
The Lord hear thee in the day of trouble; the name of the God of Jacob defend thee; Send thee help from the sanctuary, and strengthen thee out of Zion; Remember all thy offerings, and accept thy burnt sacrifice. Grant thee according to thine own heart, and fulfil all thy counsel. We will rejoice in thy salvation, and in the name of our God we will set up our banners: the Lord fulfil all thy petitions. Now know I that the Lord saveth his anointed; he will hear him from his holy heaven with the saving strength of his right hand. Some trust in chariots, and some in horses: but we will remember the name of the Lord our God. They are brought down and fallen: but we are risen, and stand upright. Save, Lord: let the king hear us when we call.
THE EPISTLE.
Romans xiii. 1.
LET every soul be subject unto the higher powers. For there is no power but of God: the powers that be are ordained of God. Whosoever therefore resisteth the power, resisteth the ordinance of God; and they that resist shall receive to themselves condemnation. For rulers are not a terror to good works, but to the evil. Wilt thou then not be afraid of the power? do that which is good, and thou shalt have praise of the same: for he is the minister of God to thee for good. But if thou do that which is evil, be afraid; for he beareth not the sword in vain: for he is the minister of God, a revenger to execute wrath upon him that doeth evil. Wherefore ye must needs be subject, not only for wrath, but also for conscience sake. For for this cause pay ye tribute also: for they are God's ministers, attending continually upon this very thing. Render therefore to all their dues: tribute to whom tribute is due; custom to whom custom; fear to whom fear; honour to whom honour.
THE

GOSPEL

--
St. Matthew viii. 1.
WHEN he was come down from the mountain, great multitudes followed him. And, behold, there came a leper and worshipped him, saying, Lord, if thou wilt, thou canst make me clean. And Jesus put forth his hand, and touched him, saying, I will; be thou clean. And immediately his leprosy was cleansed. And Jesus saith unto him, See thou tell no man; but go thy way, shew thyself to the priest, and offer the gift that Moses commanded, for a testimony unto them. And when Jesus was entered into Capernaum, there came unto him a centurion, beseeching him, and saying, Lord, my servant lieth at home sick of the palsy, grievously tormented. And Jesus saith unto him, I will come and heal him. The centurion answered and said, Lord, I am not worthy that thou shouldest come under my roof: but speak the word only, and my servant shall be healed. For I am a man under authority, having soldiers under me: and I say to this man, Go, and he goeth; and to another, Come, and he cometh; and to my servant, Do this, and he doeth it. When Jesus heard it, he marvelled, and said to them that followed, Verily I say unto you, I have not found so great faith, no, not in Israel. And I say unto you, that many shall come from the east and west, and shall sit down with Abraham, and Isaac, and Jacob, in the kingdom of heaven. But the children of the kingdom shall be cast out into outer darkness: there shall be weeping and gnashing of teeth. And Jesus said unto the centurion, Go thy way; and as thou hast believed, so be it done unto thee. And his servant was healed in the selfsame hour.
Currently there is no media on this page
I believe in one God the Father Almighty, Maker of heaven and earth, And all things visible and invisible: And in one Lord Jesus Christ, the Only Begotten Son of God; Begotten, not made; Being of one substance with the Father; By whom all things were made: Who for us men and for our salvation came down from heaven, And was incarnate by the Holy Ghost of the Virgin Mary, And was made man: And was crucified also for us under Pontius Pilate; He suffered and was buried: And the third day he rose again according to the Scriptures: And ascended into heaven, And sitteth on the right hand of the Father: And he shall come again, with glory to judge the quick and the dead; Whose kingdom shall have no end.
And I believe in the Holy Ghost, The Lord, and Giver of Life, Who proceedeth from the Father and the Son; Who with the Father and the Son together is worshipped and glorified; Who spake by the Prophets: And I believe in one, Catholic and Apostolic Church: I acknowledge one Baptism for the remission of sins: And I look for the Resurrection of the dead: And the Life of the world to come. Amen.
The Prayers Of The People
The Holy Eucharist
Sursum Corda.
P: We lift them up to the Lord.
L: It is meet and right so to do
Santus:
Celebration of the Feast
(Pg 80 BCP)
Agnus Dei
PRE-COMMUNION Prayer
(Pg 82 BCP)
We do not presume to come to this thy Table, O merciful Lord..
.
O GOD, who hast here bestowed upon us the bounty of thy heavenly gifts: grant, we beseech thee; that by the same we may be freed from all carnal and earthly desires, and ever strengthened by thy heavenly refreshment. Amen.
ANNOUNCEMENTS
The BENEDICTION
"WATCH HOW YOU GO!"
"Love the Lord your God with all your heart and with all your soul and with all your mind.'
This is the first and greatest commandment. And the second is like it:
'Love your neighbor as yourself.' All the Law and the Prophets
hang on these two commandments."
Matt. 22:36-40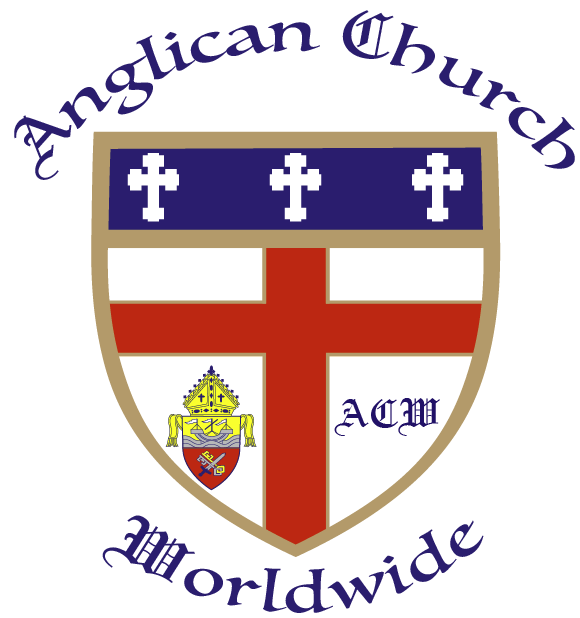 Reaching Out to the World and..... Beyond
Under the Protection of the Cross
Disclaimer: This is the original and authorized version of the Anglican Church Worldwide website.
We assume no responsibility for the contents and/or publication of any site created after our initial publication date.